Where to Meet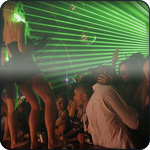 The best place to meet someone is a nightclub. Just kidding! While a nightclub is a viable place to meet people for romantic encounters or sex, it's far from ideal if you're looking for a longer term affair. In this case, you should use your entire life to meet new people. The more things you go out and do, the more people you have the opportunity to talk to. The more people you talk to, the more people you meet.
That's hardly something you didn't already know, right? You want to find the ideal place that you can go to to meet people for potential relationships? Anywhere, of course! Supermarket, cafes, on the street, on the beach, at concerts, parties, on the bus, at work, anywhere! It really depends on your lifestyle.
You may not think these are places people like to be approached, because it's not expected at these places. But what if you look at it from the other perspective - where do YOU go specifically to be approached? Nowhere! You do things in your life, and if someone happens to start talking to you, it's an opening to a new relationship. So it stands to reason that the more things you're doing, the more opportunities open up.
NLP Seduction: Rule # 1
Do more non-solitary activities in your life!
Here is a list of ideas:
Go join a mixed-teams social sports team
Start talking to new people at work
Ring up and rekindle some of your old friendships
Go to the beach with a friend and start up a volleyball game with strangers
Talk to people while waiting to be served at shops or on the train
Help! I lack the confidence to just talk to strangers!
You're not the only one! Read how you can gain confidence using NLP.
Meeting people - friends come first
You don't want to meet new people for a relationship, you want to make new friends. Friends are the key, which I cannot emphasise enough. By having many friends, you get invited to more social occasions. It is much easier to talk to a friend-of-a-friend than a plain stranger. Plus, if you are interested in someone, the fact that you have a mutual friend is a sign that you are trustworthy and non-threatening.
NLP Seduction: Rule # 2
Make as many friends as possible
If you are a man, and you approach a woman with the open intent of romance, you immediately become a threat. You absolutely must not go in with anything other than friendship on the cards, or it will not work. I will write more about this in further articles about NLP seduction.
So the essence of this article is that "where to meet" should not be a question. The question is "what to do to meet".
How to approach is an art in itself, as there is never just one right way to approach someone. You need to judge their body language and "cold read" them to choose the right approach method. In this article I will discuss the best methods and tips for approaching a stranger with the intent to build instant rapport.